Plant Fall Bulbs Now for Spring Color!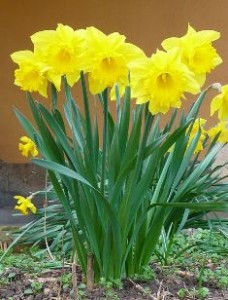 Planting bulbs this fall is an easy way to guarantee a splash of color for your spring landscape. November through December is the appropriate time to plant spring blooming bulbs in our region, but some varieties are a better investment than others.
Recommended Varieties
Not all bulb varieties can be counted on to come back year after year. In addition to daffodils, the most reliably perennial spring blooming bulbs for our climate are Spanish bluebells (Hyacinthoides hispanica), with spikes of white, blue or pink blossoms that open the same time as azaleas; summer snowflake (Leucojum aestivum), whose dainty spikes of white bell shaped flowers resemble lily of the valley and open in April; and starflower (Ipheon uniflorum), a low growing, early bloomer with icy blue, star shaped blossoms. In addition to being perennial, these bulb varieties are rarely bothered by deer or rabbits.
When it comes to daffodils, all types are not equally reliable. If you are looking for a classic large flowered yellow daffodil that will return and multiply for years to come, plant 'Carlton' or 'St.Keverne'. For a splash of yellow very early in the season, try 'Febuary Gold' or 'Jack Snipe', both of which bloom in February and are shorter than later blooming varieties. Also dependable are the varieties sometimes referred to as jonquils, which bear fragrant clusters of small flowers resembling paperwhites. Recommended selections include 'Sweetness', 'Quail', 'Baby Moon', 'Minnow', 'Geranium', and 'Avalanche'.
Other spring blooming bulbs can be counted on to come up and bloom the spring after they are planted, but are less likely to return year after year. Some will come back and bloom for three or four years before dying out, and may occasionally last longer when planted in perfect conditions. These include the many types of ornamental onions (Allium species), Dutch and grape hyacinths, anemones, Dutch iris, and Persian buttercups (Ranunculus).
Other bulbs should be thought of as annuals, providing color for just one spring, and if they do come back a second or third year consider it a bonus, but do not expect it. Bulbs in this category include tulips and crocus, which are favorites of deer, snowdrops (Galanthus), dwarf iris (Iris reticulata), and several types of early blooming, low growing bulbs with white or blue flowers that are commonly referred to as squills (Scilla, Chionodoxa, and Puschkinia).
Using Bulbs In the Landscape
For high impact, plant bulbs in solid masses or large sweeps. To add color and interest to existing beds and borders, tuck bulbs between perennials and deciduous shrubs, where they will bring early color to otherwise dormant areas. Bulbs also work well when planted underneath winter annuals such as pansies and violas, creating a layered effect when they come up to bloom in spring. Similarly, fall bulbs can be tossed into container plantings to add a new dimension of interest in spring.
All bulbs prefer to grow in well drained soil, except summer snowflake, which grows quite happily in heavy, moist soil. In addition, bulbs perennialize well in sunny areas and under deciduous trees. A general rule of thumb for planting bulbs is to set them at a depth two to three times the size of the bulb; This means small bulbs are only planted 3" to 4" deep, while larger bulbs like daffodils are planted at a depth of 8". A slow release or organic fertilizer can be worked into the soil at planting time or applied in spring when bulb leaves begin to emerge. After planting, cover the soil with mulch to moderate soil temperatures and prevent weeds from coming up.
Learn More!

Learn more about how to grow bulbs from NC Cooperative Extension's 'Perennial Bulbs' website: https://www.ces.ncsu.edu/depts/hort/consumer/factsheets/bulbs-perennial/bulletin37/perennial_bulbs.html.
Stay up to date with all your garden and lawn care chores with the 'Zone 8 Garden by the Month' calendar. Developed and written by Pender County Master Gardeners this valuable resource is packed with gardening advice for local conditions. Calendars will be available to purchase for $9 on Wednesday, Nov. 14, 9am to 1pm, at the Poplar Grove Farmer's Market.Additional sale dates and mail order information is available by emailing PenderMGA@gmail.com. All proceeds support Pender Extension's outreach programs.
For further advice on caring for your lawn, garden or landscape, contact your local Extension office:
Go to https://www.ces.ncsu.edu/local-county-center/ to find your county Extension center or post your questions to be answered online via Extension's 'Ask an Expert' widget.
Use Extension Search to find research based information from Cooperative Extension systems across the U.S.
Visit the Pender Gardener blog to stay up to date with all the latest gardening news, or sign up to receive weekly gardening updates through our email news services:
Subscribe to Pender Gardener to receive updates on what to plant and how to care for your lawn and landscape. To subscribe, send an  the email to mj2@lists.ncsu.edu. Leave the subject line blank. In the body of the message put: subscribe pendergardener
Subscribe to Food Gardener to receive updates on what to plant and how to care for your vegetable and herb garden. To subscribe, send an  the email to mj2@lists.ncsu.edu. Leave the subject line blank. In the body of the message put: subscribe foodgardener
Was the information on this page helpful?
Care to tell us why? Send Explanation